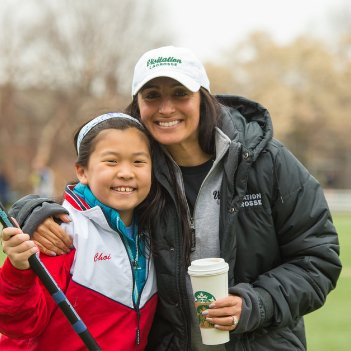 Katie McMahon-Gates
Executive Director
Katie is the owner and leader of PRIDE Girls Lacrosse and has been since 2016. She oversees the direction and strategy of the club, while also managing day to day operations. Since taking over the program, PRIDE expanded to include Loudoun County, Baltimore, and high school teams. PRIDE has risen to be recognized as one of the most competitive clubs in the country, across all age groups.
Katie has over 16 years of lacrosse coaching experience, working with teams at the youth, high school, and college level. Prior to coaching Katie was a 3x All-American at UC Davis, holding the records for goals, assists, points, and caused turnovers. She is currently the Head Varsity Coach at Georgetown Visitation and was named All-Met Coach of the Year 2018. While at Visitation, Katie has led the program to their highest national ranking in school history (#1, 2021) and the team has consistently been ranked in the Top 20 since her tenure. Her mission is to grow the game of lacrosse by creating a fun and enthusiastic learning environment while teaching young girls to be confident and strong leaders.
Jessy Morgan
Director of Recruiting
Gaining national recognition as a player, Jessy Morgan was a two-time USA Development Team member, voted the 8th best African American lacrosse player of all time by Lacrosse Magazine in 2010. A Baltimore native, Jessy began her coaching career at Howard University as head coach for The Bison for two seasons. Upon moving to Virginia, she began Assistant Coaching at UVA for four years where she served as the Recruiting Coordinator and Defensive Coach. Through Jessy's coaching, UVA earned NCAA several NCAA appearances, including a 2014 NCAA Semifinal appearance, and achieving 4th place at the national level. Jessy most recently was the Head Coach for 6 seasons at George Mason University, turning a struggling program into an Atlantic 10 Conference Tournament contender.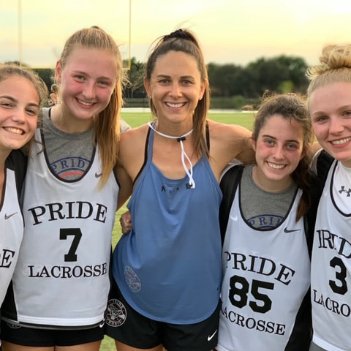 Brittany Stevenson
Program Director, HS
Brittany brings 12 years of coaching experience and a great passion for growing and investing in players. Having enjoyed success on the field at Old Dominion University ('08) and in high school at Hayfield ('04), Brittany found coaching to be the next step. She currently serves as the Assistant Varsity lacrosse coach at Bishop Ireton High School where she has led the BI Cardinals to win three WCAC Championships in 2016, 2017, and 2018, and two VISAA State Championships in 2017, and 2018. Before Joining the BI coaching staff, Brittany coached several teams to success, leading the South Lakes High School Seahawks to their most successful season in program history, and worked as an Assistant Varsity coach at her alma mater, Hayfield Secondary School in Alexandria, VA.
Olivia Harpel
Program Director, 5 – 8th Grade
Olivia Harpel is a recent MBA graduate of William & Mary where she played her 5th year and also served as a Graduate Assistant Coach. Prior to that, she was a draw specialist at Northwestern University and a 4 year letter winner. She was also a 2X high school All-American from the New Jersey area. Olivia brings over ten years of youth – college coaching experience. She has been instrumental in draw specialist training across the club.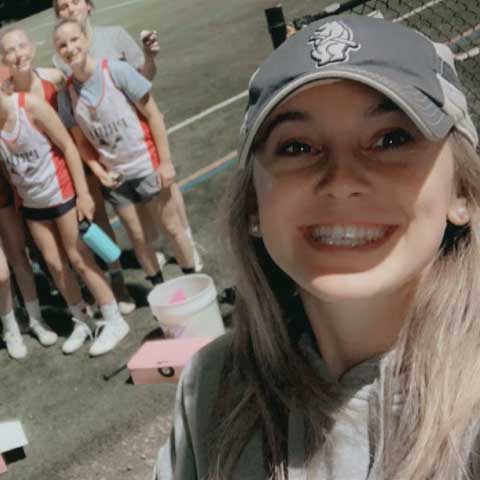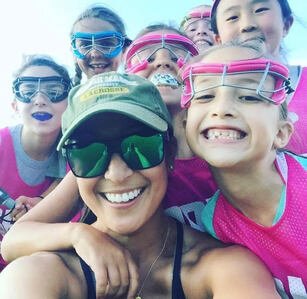 Jenny Tran
Program Director, 3 – 4th Grade
Jenny Tran was a Defender at George Mason University. During her senior year in 2008, she was a key member of a defensive unit that ranked fifth in the nation in caused turnovers per game and sixth in ground balls per game.  Jenny helped her team to #12 national ranking, the highest in program's history. She graduated in May 2008 with a bachelor's degree in business management. 
Jenny has over 15 years of coaching experience. She is currently the Head Varsity Coach at Yorktown High School. In first season coaching at Yorktown Spring 2018, led the Patriots to a 12-5 overall record, ranking #4 in the state (6A) and received 2018 Liberty District Coach of the Year. In the second season at Yorktown in Spring 2019, she led the Patriots to a 14-8 overall record, again ranking #4 in the state (6A), and made school history advancing past Regional Quarterfinals and competing in the State Semi-Finals. Jenny also coached for PRIDE for 6 years.
Prior to Yorktown she coached at Battlefield HS and SuperNova Lacrosse Club. Outside of coaching Jenny mentors through Fairfax County's BeFriend A Child program and volunteers with Arlington Youth Lacrosse.
Registration
Is your daughter ready to take her lacrosse abilities to the next level?